Ayurveda & Yoga for natural health and wellness
Welcome to 1000 Miles Therapy – alternative and complementary health practice of Nadezda (Nadia) Kovalevskaya, PhD, biochemist, qualified Ayurvedic practitioner, nutritionist, herbalist, massage and Yoga therapist.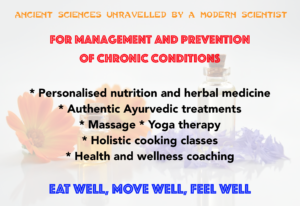 The foods that we eat become our bodies and influence our minds. To stay healthy we need our digestion to work properly but this is often not the case. Modern food habits, the stress epidemic, and environmental changes often influence us in a negative way. As a result, despite all scientific progress, we are getting more chronically ill because our basic physiological and emotional needs are often overlooked and ignored.
In practice, many chronic and undiagnosed conditions can be relieved by changing the foods that we eat, adopting a lifestyle that is in line with natural rhythms, and changing our mindset a little bit.
My approach is different from most approaches currently on the market: it relies on ancient holistic knowledge that has been available for 5000 years and does not change with time. I combine this knowledge with my experience in modern biochemical research to create a unique program for every patient.
Looking at every person as a whole, beyond symptoms, disorders, and test results, I provide genuine care and support exactly where the person is right now. This approach works wonders and gives better long-term results than fighting and fixing symptoms.
I provide several services for managment and prevention of chronic conditions, all of them can be used independently – just choose an "entry point" that is right for you. All these simple yet often underestimated solutions can transform your life and get you to a level of wellbeing you never considered possible!
Nutrition. I provide personalised nutritional plans based on your current situation and needs. No dieting, no suffering, no expensive "magic pills" or supplements.
Massage and more. I offer authentic Ayurvedic therapies that provide deep relaxation for body and mind, remove blockages, restore circulation of lymph, blood and oxygen, and can help you a lot on the way to balance.
Yoga therapy and traditional Yoga. I offer a gentle yet powerful approach to exercising. Personal attitude is the key to success – we work on what you really need at the moment. My yoga sessions are suitable for all abilities.
Education (coming soon). I teach cooking simple, inexpensive delicious meals in my holistic cooking classes. You can also learn how to use herbs and spices to improve digestion and stay fit and how to grow your own medicinal garden.